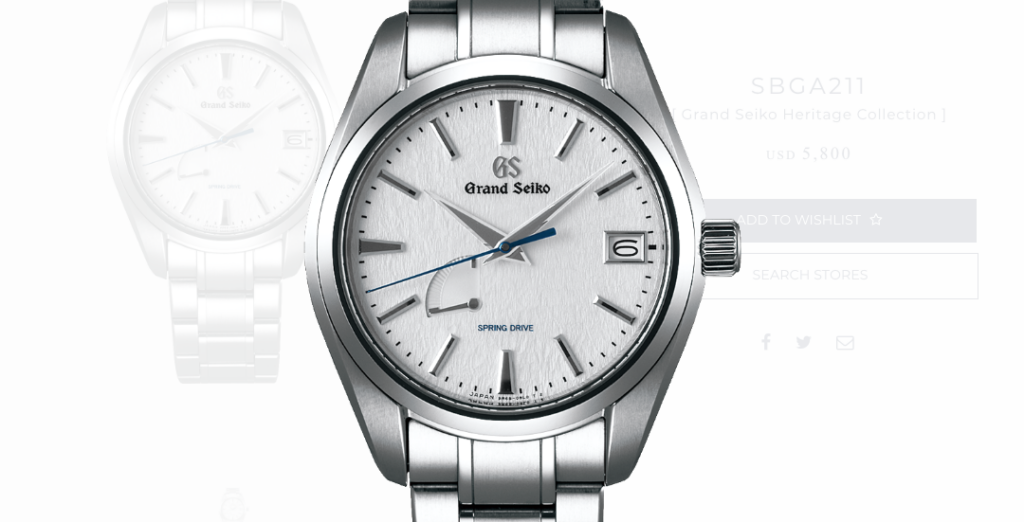 This is not breaking news, but Grand Seiko is seemingly getting more and more attention in the US market and watch collectors are catching on. Likewise people "in the know" are looking at Grand Seiko independently of the mass-produced value watches made by the parent company Seiko and shopping them against Rolex, Omega, and the likes. My personal favorite is not an outlier either, it's the SBGA211, which is affectionately named by fans (not the brand) the "Snowflake". What first is so stunning about the watch is it's white textured dial (hence the Snowflake nickname), that's really a piece of art in itself and seeing it person is worth 1k views online – it's truly striking. When you pick it up, you're treated to the lightweight feel of titanium, which makes it 30% lighter than steel watches. The finish on the titanium adds another level of hand-finished sophistication on the watch and it rivals finishes found in Geneva based brands of the highest pedigree.
If finish and feel are not enough to convince you of the $5,800 retail price, take a look at the marvel of the movement powering this beauty. The 9R65 "Spring Drive" movement is an automatic mechanically powered watch with a quartz oscillator, effectively making it a best-of-all-worlds mechanical and quartz hybrid. No battery to speak of, but a smooth sweeping seconds hand (which is gorgeous blued steel by the way), that keeps the watch to an accuracy rating of +/- 1 second per day and +/- 15 seconds per month. Independent tests have shown the watch to be even more accurate than the manufacturers claim.
So as you can tell, I'm seeing the value proposition of the Snowflake and it's definitely on my most wanted list. However, there is a lot of great competition around the $6k price range (Rolex Oyster Perpetual & Explorer for example) – but I'm still hard pressed to find more wow factor under that $6k mark. If I did have to nitpick the SBGA211, the pins in the titanium bracelet aren't the best look and there's no micro-adjustment on the bracelet either (which is no fun on hot summer days). This Grand Seiko also falls somewhere between a Sports Watch and a Dress Watch, which could be argued to be desirable/versatile – but there's something to be said about the purposeful nature of watches that exemplify their category i.e. Divers, Pilot's, Dress, etc. To wrap it up, I'd say the Snowflake might not make the best "only watch" but it's still one of the most impressive timepieces under $6k.